So you've found your perfect ring, and now all that's left is the sizing. Whether an essential design or engagement ring, determining a ring size on your own or collaboratively can be a tricky and sensitive process, but we're here to provide easy aid.
---
If the Ring is a Gift:
Ask your partner's friends or family if they know his or her ring size if they've gifted one previously.

See if you can borrow one of the recipient's existing rings (for the intended finger).

Using measuring tape, find the circumference of the ring and compare to our ring sizing chart below.

If neither of these options are a possibility, you can reach out to our style specialists who can see if the recipient has purchased a ring with us in the past! If not, we offer gentle guidance on sizing.
---
If the Ring is a Surprise or You're Collaborating:
Ring sizing yourself or together with a partner is straightforward and reliable when using either of the following methods:
Ring Sizer:
Like a belt for your finger, our ring sizer is a thin plastic measuring tool in which you secure the end through the "buckle" to form a ring shape.
Slip your finger through the loop and pull the end through—you want this to be tight, but not uncomfortably so.

You should be able to slip it back over your knuckle. When it feels snug, look to the little black arrow to determine the ring size.

Receive our ring sizer in our Home Try-On, a free experience to explore engagement and wedding ring designs. Or, purchase the ring sizer on its own here.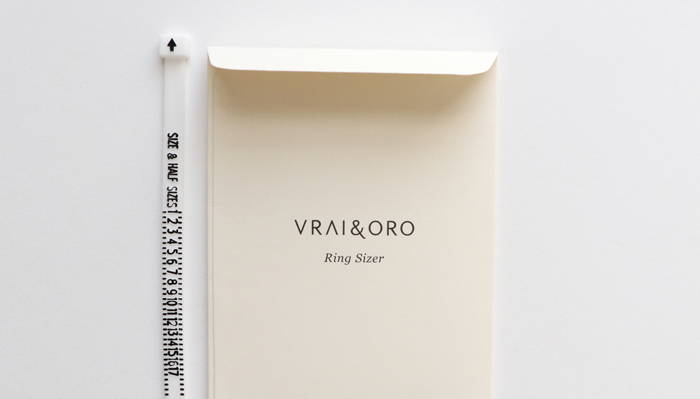 Ribbon Method:
No ring sizer? A thin ribbon, string or strip of paper can suffice.
Wrapping it snugly around the correct finger, mark the spot where the material meets with a pen.

Measure the distance with a ruler (in mm) to compare to our sizing chart below.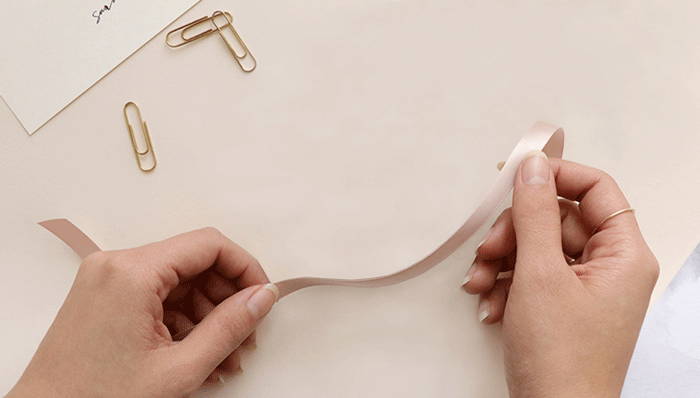 ---
General Tips:
A well-fitted ring should be easy to put on, a tad snug to take off. Ensure that the plastic slider (if using a ring sizer) or sizing material (if using ribbon, string or paper) fits over your knuckle—if you have thin fingers but larger knuckles, you may need to order a half size larger.

Temperature affects sizing. Fingers appear smaller when cold, and larger when warm. Measuring at the end of the day when your extremities are warmer ensures a more accurate reading.

Size the exact finger for the ring, as your left and right hand's fingers are not identical (the dominant hand tends to be larger). Typically engagement rings are worn on the left ring finger, but we're okay with questioning this tradition. :)

Avoid eating salty foods and alcohol before sizing, as they make your body retain water, which can result in a larger ring size.

Size multiple times, multiple different days, as your body swells and shrinks daily.

We offer all our engagement rings in quarter sizes so if you're still unsure, your best bet is always to order a quarter size up. Should you ever need a different size for an engagement design, your ring can be resized for $75.
| | |
| --- | --- |
| Inner Circumference (mm) | Ring Size |
| 44.2 | 3 |
| 44.8 | 3.25 |
| 45.5 | 3.5 |
| 46.1 | 3.75 |
| 46.8 | 4 |
| 47.4 | 4.25 |
| 48.0 | 4.5 |
| 48.7 | 4.75 |
| 49.3 | 5 |
| 50.0 | 5.25 |
| 50.6 | 5.5 |
| 51.2 | 5.75 |
| 51.9 | 6 |
| 52.5 | 6.25 |
| 53.1 | 6.5 |
| 53.8 | 6.75 |
| 54.4 | 7 |
| 55.1 | 7.25 |
| 55.7 | 7.5 |
| 56.3 | 7.75 |
| 57 | 8 |
| 57.6 | 8.25 |
| 58.3 | 8.5 |
| 58.9 | 8.75 |
| 59.5 | 9 |
| 60.2 | 9.25 |
| 60.8 | 9.5 |
| 61.4 | 9.75 |
| 62.1 | 10 |
| 62.7 | 10.25 |
| 63.4 | 10.5 |
| 64.0 | 10.75 |
| 64.6 | 11 |